'Life of an Ambulance Driver' is a documentary directed by Dhinesh Kumar, and has been nationally recognized in two notable film festivals, apart from receiving tremendous positive reviews from critics. Dhinesh, a final year student from MSc Electronic Media at AU, talks to The Guindy Times about his childhood days, his journey and how difficult it was to work on this project, which is a tribute to one of the most underrated professionals- the ambulance drivers.
Excerpts:
How did you embark on this documentary? Was there a real life incident that forced you to venture into this project?
Initially, I had the idea of making this a full length feature film. However, when I had to submit a documentary to my department as part of the coursework, this non-fictional work came into the picture. Moreover, I wanted to prove that to prove that a documentary can be as entertaining as a short film.
Is a feature film with the same theme still on cards?
Not immediately, although this documentary has been getting constant positive feedback, with lots of laurels and recognitions. If there is a chance to make this as a feature film in the near future, I would always be up for it, with added flavor and commercial elements.
It looks like SIMS Hospital has helped you a lot on this documentary. How and why did you choose SIMS?
To be frank, we tried shooting in a 108 Ambulance. But that in turn, required a lot of permissions and sanctions from top officials in the government. Hence, we started searching for hospitals; we visited several hospitals like Apollo Hospital, Kauvery Hospital and many other such places, which did not suit our requirements either because of the space constraints or the complication in shooting an emergency situation. Finally, we zeroed in on SIMS because it is close to our campus, and the authorities there were cordial and understanding.
So you mean to say that the visuals of the emergency situations were shot live and nothing was rehearsed at all?
Yes, absolutely. Nothing was staged beforehand at all. In fact, while bringing one such patient, the person passed away in the ambulance itself, as you could see towards the end of the documentary. The fact that the patient was alive when the ambulance started towards the hospital for further treatment, but succumbed despite CPR (Cardio-Pulmonary Resuscitation) was very saddening.
Did that death not affect you morally?
Honestly admitting, whatever you see in the documentary is not the worst situation one may face. We faced incidents that were far more gory than those shown in this 16-minute film, which are not included. When you include visuals with a lot of blood and other such things, it cannot be rated as U (Universal) which may lead to broadcast issues at popular media platforms.
To answer your question, I was psychologically prepared to face any situation, and made myself mentally ready for everything. But the members of the crew felt a bit traumatic at times, and it even went to the extent of them asking me if the project should be continued.
Speaking of the crew, how influential and helpful have they been right from the nascent stages of the documentary to the post-production period?
Selvakumar was the Assistant Editor and Assistant Director, and Aparna and Bharath Kishore helped me throughout with the live shooting duration.
They could have easily stated, "Let us shelve this project, and choose something else which is very easy and less demanding", because this shoot involved a lot of on-road traffic visuals that required permission from the Police Department. So, I must say that them agreeing to work towards this project was by itself, a big help. We worked as a team right from the initial stages, although I juggled multiple roles.
How did you select ambulance drivers for the documentary? Was there a procedure involved in picking them out from many?
Yes, it was a streamlined process. We needed drivers who would speak well first of all, and eventually, who could speak naturally even in front of the cameras. Most of the drivers whom we met were melodramatic, who always held sad faces.
Since we were looking for people who feel proud about them being ambulance drivers, there was an audition by which we filtered and selected drivers for our project.
So, Suresh and Robin (the drivers who featured in the documentary) are actually drivers and were selected after auditions?
Yes. We were also fortunate in another aspect that both of them are the most experienced among the lot, with Robin leading the pack with 10 years of professional experience, and Suresh following suit.
How congenial and open were they to your idea of shooting this documentary?
Initially, they were not fully aware on what we were about to do, because they were new to cameras and microphones. Moreover, they thought we were college students who would just ask them a few questions and leave.
We conducted a brainstorming session for around two hours to make them understand what we were actually wanted to execute, and then made sure that they were ready enough to express their natural opinions and thoughts before recording.
How did you feel about editing this documentary? How did you arrive at this 16-minute limit? Was there a conscious decision to bring the duration to less than 20 minutes?
The actual footage runs down to 7 days, approximately, and there was no plan as such on the time limit, initially. But as I stated earlier, I was conscious about the fact that this 16-minute video should appeal to all kinds of audiences. As a result, we needed to take calls on the kind of visuals to be included, and more importantly, the ones that had to be excluded.
What difficulties did the drivers face during this project?
They got exhausted periodically because every time they were called up for emergency duty, they had this tiring task of getting us in the loop because we had insisted that the shoot be as realistic as possible. They would have food at mess, and as I would often eat out, they would call to tell me that there was an eleventh hour emergency. Watching them skip meals and other routines for their work is commendable, and I think they deserve due respect particularly for this trait.
How extensive and tasking was the background research work that went into the concept before the actual shoot started?
The plan of action was basically to not show this video as a driver-goes-to-a-place-and-attends-to-a-patient, which would have been obviously monotonous and less impactful than it is in the present format. The background work mostly went in writing a screenplay that was gripping and interesting to the audience, while conveying the essence of the theme with no dilutions.
Talking to drivers and the other stakeholders of these emergency situations was one important task in order to get to know the stark reality.
How long did it take from the initiation of the idea to its fruition as a complete video?
The actual shoot went for 11 days and post-production work took 12 days after that. Initially, compiling a storyboard to convey the idea and other such pre-production work also took about 5 to 6 days. So, it was approximately 28-30 days of work dedicated entirely towards the technical aspects of the film, apart from the initial stages, when we were searching for a suitable hospital.
We had it in the back of our mind to complete our shooting within a fortnight because we did not want to make it embarrassing and difficult for them to provide suitable facilities and permission for us to shoot continuously.
It was also a matter of conscience-based agreements and disagreements, because we had no time to ask the relatives of a patient if we could shoot or not, at junctures of impending fatality.
What were the difficulties you had to overcome before convincing the hospital authorities about this project?
First of all, there are always fears that people holding cameras could be from the Press, and breaking that stigma was the most challenging part. Secondly, I often had to prove myself and my dedication towards the project, as there were moments when they could have easily written me off as just another ambitious college student. Thirdly, I had to record the moments live and hence, patients, drivers and medical care assistants had to be calm and natural despite an alienated atmosphere around them.
You have worn several hats right from script writing to cinematography for this documentary. How easy or difficult was it to manage multiple roles?
I have been doing concept videos and short films right from the time when I was studying sixth grade back in school. That was a period when there were not many people roaming around with cameras and camcorders. There was also the social taboo that courses like 'Viscom' would take one nowhere in life, and hence I took the initiative to learn the technical nuances of direction, writing and other aspects of filmmaking by myself. Since I have been doing these for a long time now, I did not find any particular difficulty in juggling various responsibilities.
Not to boast, but I was the only technically capable person in the crew. The reason I edited this documentary is not because I wanted to score everything to my credits, but because hiring a professional third party would not have given this flexibility of work hours. Moreover, as a director, I have a vision as to how my concept must express itself through visuals, and self-editing comes in handy for this purpose.
Actor Nasser is seen praising the documentary right at the start of the video. Apart from that, you have also been recognized with 'Best Documentary Award' at 'Framez 2017' and also at '11th Ava 2017'. How does it feel to have gotten so many laurels for your work?
Anantha Vikatan wanted to write about this documentary after watching it during one of the festivals, and that is when they told me to publish it somewhere for everyone to see. I therefore decided to post the video on YouTube recently. I am also sending the documentary to a few other competitions. It feels good to have conveyed a socially responsible message and being recognized for it.
What is the scenario of documentary films in the Indian horizon, in your opinion?
Firstly, documentaries are not classified as comedies or any such categories even at awards and festivals. Most people do not even know what a documentary is, and what purpose it serves. After seeing 'Life of an Ambulance Driver', many people told me that they did not expect a 'documentary' to be as interesting as this, as their perception of a documentary has always been one involving monologues and melodrama. The jury in both the competitions where I emerged victorious also reflected the same opinion.
What was the budget of this documentary? How did you source your funds?
The whole project cost me around 1 lakh rupees, and everything was spent from my own pocket, as we did not receive funding from any other sources. Though we could have easily brought the costs down by recording it in a studio environment, we wanted it to be a real documentary and not something to which people cannot relate.
When it comes to short films, the creator has the independence to manipulate a bit and make quirky visuals so as to appease the audience, but that is not possible in case of documentaries. Only the belief in the content that one chooses keeps any documentary going.
Let us move on to some general questions apart from our main topic. How do you see yourself in the near future – a socially-inclined documentary filmmaker or a 'Kollywood' director with commercial aspirations?
I have done short films in various genres like romance, thriller, etc. 'Life of an Ambulance Driver' is actually my third documentary. With diverse experiences, I believe I can be a feature filmmaker with societal conscience. I am aware that the competition is tough these days and it becomes important to prove oneself in every field of play.
We all are aware of the fact that crowd attraction and critical reception are non-linear in the case of documentaries. How do you think documentaries can reach out to more groups of people?
Breaking the stereotype about documentaries would be the starting point, I guess. This cannot happen soon, but to increase the target audience, the existing conventional media should play a pivotal role in promoting the concept of a documentary.
While there are short films and feature films, which occupy the lion's share of the media limelight, there is something called as 'docudrama', which is different from a documentary, per se. When a socially potential issue could be brought on screen as a docudrama, it would slowly pave way for documentaries to rise and shine.
What could be your suggestion for a person who wishes to plunge into documentary making?
A successful project involves good technicians and good story-tellers. Be it a documentary or short film, the best tip will be to keep going with your plan tirelessly amidst recurring odds. Be it your life or career, all ones needs is the clarity that will lead him to a place where his vision and reality align together.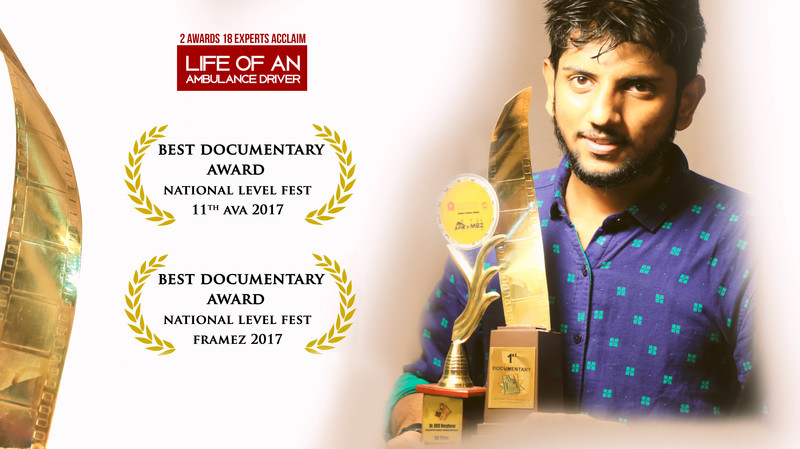 YouTube link to the documentary - https://www.youtube.com/watch?v=7YJc9AJLQso&t=8s
The Guindy Times applauds Dhinesh Kumar's endeavors and wishes him success for his future projects