The 62nd Annual Grammy Awards witnessed some of the truest emotions and brand-new talents yet, as everyone paid tribute to a lost brilliance. The Grammys 2020 was held on 26 January at Staples Centre,Los Angeles. This year, yet again, was hosted by Alicia Keys. Keys shook the audience with an amazing speech as she mourned the devastating death of the basketball legend, Kobe Bryant. She quoted "We're literally standing here, heartbroken, in the house that Kobe built". She also performed the acapella version of It's So Hard To Say Goodbye with Boys II Men.
The Major Breakout Star of this spectacular night was an 18-year-old girl with green hair, heart of gold and an invincible spirit. Billie Eilish and O'Finneas dominated the event, winning five of her six nominations. Sheeven broke Pop Queen Taylor Swift's decade old record as the'Youngest Woman to win the Album of the Year'. Billie's sassy single, Bad Guy won under two categories- the 'Song of the Year' and the 'Record of the Year'.Her debut album,When We Fall Asleep, Where Do We Go which debuted at number one on the US Billboard 200 albums chart with 313,000 album-equivalent units, rightfully won the'Album of the Year' and the 'Best Pop Vocal Album of the Year'.She walked up the stage for one last time that night to accept the 'Best New Artist' Award, and made a heartfelt gesture in her acceptance speech by saying that Ariana Grande's album thanku, next deserved the 'Album of the Year' over than her own record.
Melissa Vivane Jefferson popularly known as Lizzo, won three of her eight nominations. She earlier rocked the stage with a flamboyant performance of cuz I love you and Truth Hurts. She won the 'Best Traditional R&B Performance' for Jerome. Her third studio album cuz I Love You(deluxe) won the 'Best Urban Contemporary Album'. Her breakout hit Truth Hurts which, officially, was the longest-running Billboard Hot100 No.1 by a solo female rapper, won the 'Best Pop Solo Performance'. In her acceptance speech shegot emotional saying"...all of my other problems that I thought were big as the world, were gone and I realised that there are people hurting right now and you guys(other artists in the room) create amazing music, you guys create connectivity and I'm speaking to all of you in this room, we need to continue to reach out. This is the beginning of making music that moves people, that liberates people. IfI hadn't reached out,I wouldn't have met my best friends. I don't know where I'd be now, I'd be sleeping in my car. Thank you so much for lifting me up. Let's continue to reach out, hold each other down and lift each other up".
With unprecedented lyrics, LilNas X's single Old Town Road, featuring Billy Ray Cyrus, which had become the longest-leading No.1 single in Hot 100 history, with 17 weeks on top, won the Grammy for 'Best Pop Duo/Group Performance'. He also won the 'Best Music Video' award for his single '7'. He, along with the BTS performed Old Town Road, and won a minute-long applause from the audience.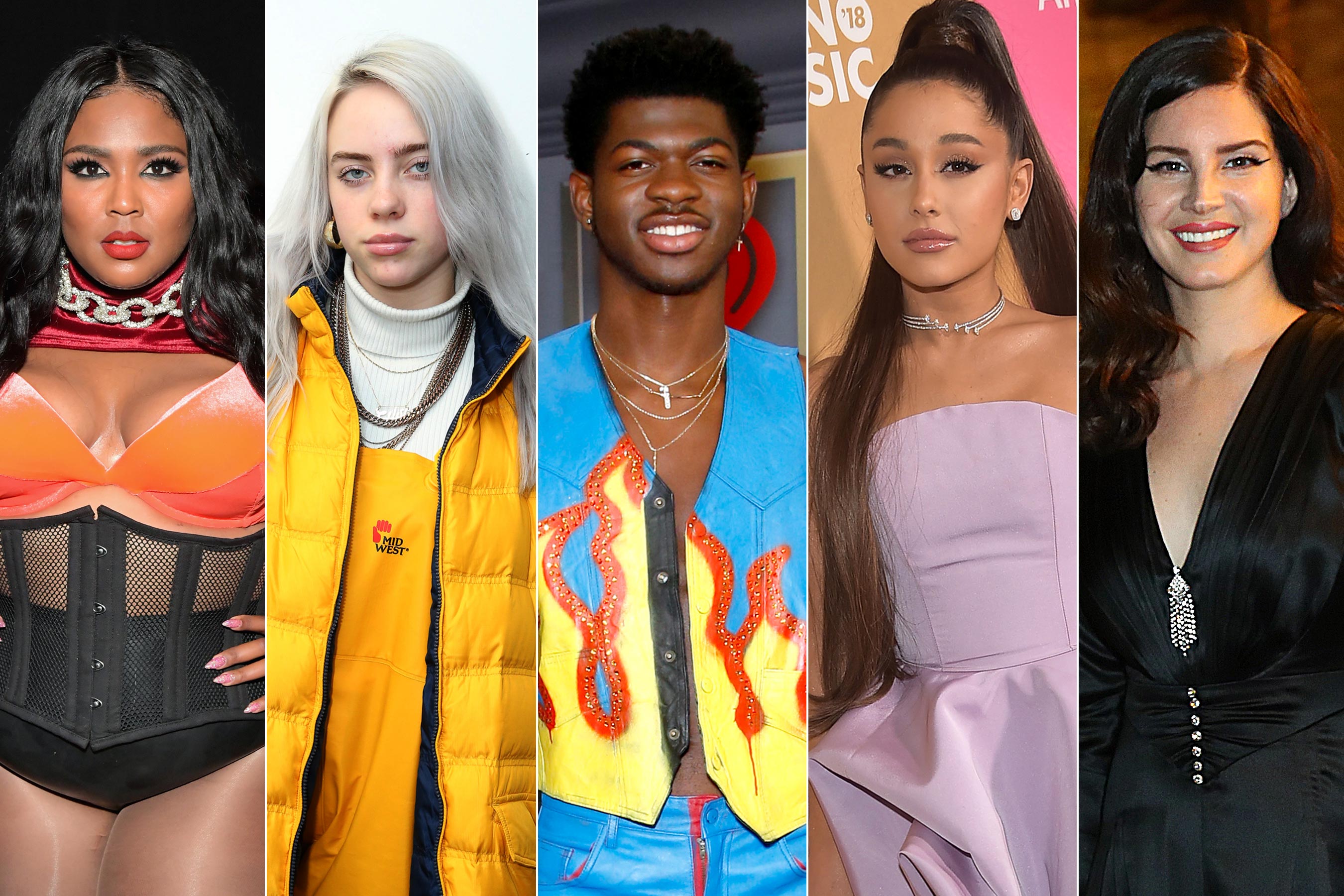 Lady Gaga and Bradley Cooper won a Grammy for 'Best Compilation Soundtrack for Visual Media' for their Oscar nominated film,'A Star is Born'. The duo performed I'll Never Love You Again at the Oscars 2019. This year, the song won the Grammy for 'Best Written Song for Visual Media'. Hollywood's 'the most important and compelling popular musician of the twenty-first century', as quoted by The New Yorker, Beyonce, added one more grammy to her list by winning the 'Best Musical Film' award for Homecoming.
The Grammys 2020 witnessed some scintillating performances which filled the ambience with smiles through tears. Demi Lovato, stole the scene witha dashing performance of Anyone which she performed for the first time since 2016. Ariane Grande sparkled like an angel during her medley performance of Imagine, My Favorite Things,7 Rings, thank u,next. She broke into tears as she changed her song lyrics, thanking her mom and dad. The Grammys 2020 ended with a rocking performance of I Sing the Body Electric by Cyndi Lauper.