With one major college fest down, it's time to start gearing up for the next. With word on the street being that Enantra were recently granted a prestigious UNESCO patronage, The Guindy Times deceided to suit up and see what else was in store for this year's edition of Enantra. Kavya, Hitesh and Mohamed, members of Capitalize who have been working for Enantra, gave us a sneak peek of the workings of the team and much more,
Tell us about the patronage you received from UNESCO for Enantra.
UNESCO first reads the information we provide them about the event. We highlight all the individual qualities of the event. For example, last year's 6 Degree Talks was a big highlight. This year, we started working since November to get their patronage. We got approval for their patronage three months later.
How is this year's Enantra going to be different?
Our endeavor for this year is to scale up. We have also made changes in every event, workshop and talk show. We have an event called Entre-tainment. It's a professional networking dinner session wherein top business personnel, entrepreneurs and elite investors interact. This event is coupled with the Enantra awards. It is scheduled to happen on February 11th and we hope it will be a fulfilling evening!
How long have you been preparing for this event and what are some key elements to keep in mind as you prepare for an event?
Our seniors started the event preparations in July 2017 and gave us the framework. We started building on it since July. We are trying to have a greater foothold on planning this year.
What are some of the special events in this year's Enantra?
Start-up Street is going to be the key attraction. It is basically an internship/job fair. We are inviting start-ups to put up stalls at very reasonable costs during Enantra. There is going to be no registration fee for the students. Anybody from anywhere who is looking for a job or internship can walk in and select whichever start-up they want to submit their resume to. Then, the interview process will follow. We expect this event to be one of the crowd-pullers.
We also have 'Start-up Pitch Fest', sponsored by EDI. Here, students can pitch in their idea, and the 'Start-up Pitch Fest' team selects the top two or top five ideas and gives them a seed grant of $0.5 MM. It's like an on-the-spot investment.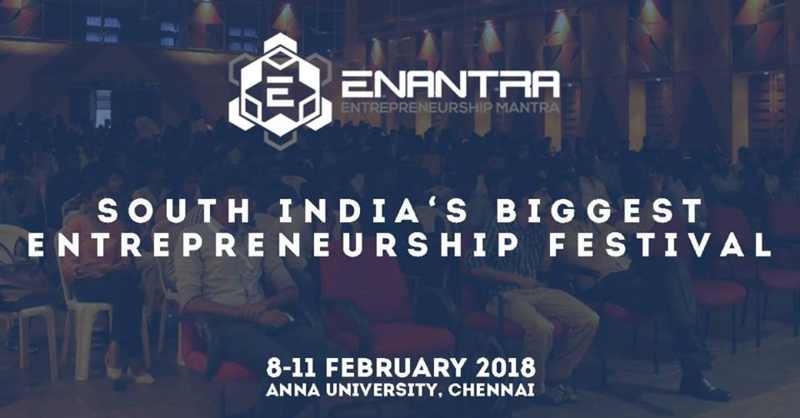 Which exhibition was the crowd favorite of last year?
Uber Pitch, one of our mini-events, was liked by everyone. We received a lot of positive feedback about the innovative nature of the event. Varun Agrawal's talk was also a very big hit. We brought in 'Hip-Hop Thamiza' and Karthik Kumar to pitch about entrepreneurship, which was also a crowd favorite.
How has Enantra evolved since the last time?
This is just the second edition. We are trying to organize this in a professional manner. We have designated teams focusing on specific tasks such as marketing, quality control, event and then the sub-teams for sub-categories.
What are the basic qualities you look for in people who organize such events?
First, they should be able to devote their time to the event and they need to demonstrate commitment to the work they want to do. Second, their soft skills must be sound. These are the basic qualities we look for.
Which among this year's guest lectures do you think everyone would look forward to?
We have roped in Vijay Kapoor of Derby Jeans. He is an excellent motivational speaker. We expect his lecture to be liked by all.
What areas do you think you can work on this year to make Enantra more successful than last year?
Getting this done the right way, having a mega event organizer, having a mega event choir, following the procedures set for success and making this happen in a flow instead of people coming and chipping in, is what we are working at to make Enantra a successful event this year.
How have the responses been to the events you have conducted off-campus?
One of the events we went to was 'Start-up Pongal'. It is about professional networking in a fun-based environment where about 150 entrepreneurs gather to celebrate Pongal. About seven members of the Enantra team talked about Enantra and gave our pamphlets. We received a lot of response. Besides, we have lots of on-line events through which we get good responses. For example, the online article writing event has pulled in a good crowd.
The Guindy times wishes the Enantra team the best of luck for their future endeavours.