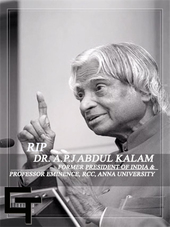 I was seven when I first met our ex-president. It was right before he left to Delhi to move into the Rashtrapati Bhavan. They say you never remember the word a person says but rather how they made you feel. He made a little girl feel important and significant, made her believe that no matter what she contributed to the world,it would be significant.
- Gayathri Govind
It's disheartening to see you go. But if every person in this country can feel like they've lost one of their own, it is only because we saw you as a friend, a mentor, a guide. We'll finish what you started. 2020 is ours.
- Saravana Kumar
You have done much for us dear Sir, for our nation, for your people. All we can do for now in return is pray for your entrance in heaven and hope to carry your vision forward. May Allah bless you paradise. We salute you Sir.
- Syed Imran
Dr APJ Abdul Kalam was a visionary, a good man in the truest sense and a league above the rest of us. He commanded an intensity of love and respect that few other Indians can claim. He will be missed by everyone who has been touched by his effervescent self.
- Prem Sylvester
Not only was he a firm believer, Dr.A.P.J.Abdul Kalam was a standing example for the youth to follow their heart. He passed away doing what he loved - inspiring the youth. Never did we know the power words can hold. His speeches were awe-inspiring and motivating. His books are a must read for every Indian irrespective of age, caste, creed and religion. He brought about a new perspective on the youth in the society. He taught us to dream, aspire and achieve.
- Aishwarya Valliappan
For the man who made me believe in myself.
For the man who made me understand that knowledge comes with humility
For the man who made an everlasting mark with just his presence.
R.I.P.
- Ashaa Vigashini
Dream : A word that has always helped me get one step closer to achieving my goals till date.
A word taught to me by Dr. APJ Abdul Kalam.
His words , " A dream is not something you see in your sleep , a dream is something that does not let you sleep" , have made me not only coherently realize my priorities but also helped me push higher till I reach my aim.
RIP to a dreamer, and one of the most inspirational idols of our country.
- Deeya Kashyap
People often dream to do unto others. Yet you, someone who I've never met, touched not only my life, but millions around the world. This feeling of gratitude, why must it be cloaked with such sorrow? Rest in peace knowing that the next generations burn bright with the fire you've lit. Thank you.
- Keerthana Chellappan
To the teacher - who always had time for even the most inane questions
To the scientist - who pioneered our country to the forefront of innovation
To the author - whose words motivated countless others
To the civilian - who constantly put his country ahead of himself
To the leader - who always, always led by example
To the inspiration - yesterday, today and forever-more
Rest Dr. Kalam, in peace and in the knowledge that your vision for a better India
is being realised in your name by those that love and remember you.
- Reshma Sara Pothen
He had so many labels. Thinker. Philosopher. Leader. Scientist. Teacher. But above all that, he was truly human. Humble, simple, beautiful and yet so gloriously complex in his means of inspiring his ideals in the people he met. He was a prolific being who would continue to teach people to dream. Good night, sir.
- Jerlyn Sally
"I'm a well in this great land. Looking at its millions of boys and girls,
To draw from me
The inexhaustible divinity
And spread his grace everywhere
As does the water drawn from a well."

- Dr. APJ Abdul Kalam, Wings of Fire.
Dr. APJ Abdul Kalam was several things, a brilliant scientist, a revolutionary president, a visionary and simply a propagator of greater good. I say, he was a man of dreams. Unlike your conventional poster boy or theatrical hero, here was a man who won us over with the power of the truth and simplicity. He showed us that education is the ultimate tool a person can possess, and that it can be sought by anyone or rather must be. His humble beginnings are proof that indicate anyone can climb up to the top with hard work and dedication. His scientific prowess and technical knowledge needs no introduction, as we proudly addressed him as the 'Missile man'. His acceptance worldwide was unparalleled and unheard of for a person in his political position. But the humility and modesty which
resonated in
his actions in-spite of it all, is what makes him truly remarkable. He showed us that a beautiful mind is what it takes to be a beautiful person, and definitely not outwardly appearance.
He believed that students possessed the power to change the face of the country,
and was so close to us throughout his lifetime, even during his final moments.
Dr. Kalam made us unravel the power of dreams, by aiming higher and dreaming bigger. More importantly, he also dreamed with us and for us. He talked at great length about a better India, and urged us to work for a brighter future. Now it is very much in our hands to make the most of his ideas and teachings. Its time to make sure his dreams see the right end. It is our duty to make sure 'India Vision 2020' comes true.
His words had the power to trigger a generation of dreamers, thinkers and aspirers and made us believe that anything was possible.
Such was a man who is even beyond dreams..
Poster Design by Agraja Magesh.