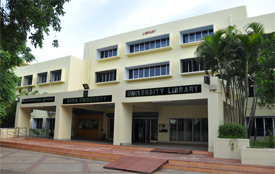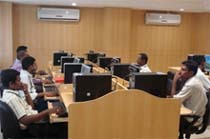 All those questions we had regarding the University Library? Here are the answers:
Timings?
Mon-Fri 8.00 a.m.-9.45 p.m. - That's right, it's open for this long.
Sat-Sun 9.00 a.m.-4.45 p.m.
And yes, it's open even on Sundays. Closed only on Second Saturdays of every month and also on Govt. holidays.
Overdue Charges?

Including intervening holidays, for each book,
Upto 15 Days; Rs.1/- per day
From 16th - 30th Day; Rs.2/- per day
From 31st day onwards; Rs.5/- per day
So, if you've kept two books for an additional 34 days after the due date (GT doesn't recommend that!), your charges would come out to be
2*(1*15+2*15+5*4) = ₹130
Remember, you won't be able to borrow books if you have excessive fines to clear.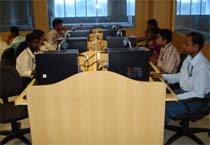 How many times can I renew a book?
Only once! Come on, be considerate about others. After renewing once, you would have kept the book with you for a total of four weeks (two + two).
How many books can I take at a time?
You should definitely know this by now - four!
I have found two copies of a rare book. Can I borrow both; one for me and one for my friend?
Nope. You can't borrow two copies of any book. Better call and tell your friend to come quick.
What do I do, every time I visit the library, the book is not available?
Well, have you tried reserving it? This way, you'll get preference for the book, rather than the one who's already had the book for two weeks, i.e., the other person won't be able to renew it.
Anything important I might be missing with regard to the library?
Previous years question papers? Yes, every department's question papers for every semester and for every subject is stocked in the library.

Did you know about the photocopy service? Its timings differ though.

Go to the topmost floor on the lift (it works just fine), you will be totally amazed by the Digital Knowledge Centre. This is how it looks:
Here you can access top e-journals, e-books and e-learning resourses.
Did you know about the air-conditioned reading halls?

There's an Audio-Visual Area which contains an extensive collection of educational videos, films, etc. It also houses the equipment needed to use this material. There are facilities for individuals and for small groups to watch video material. Don't expect any entertainment though. These are very much academic and is made available to the visitor only after the officials deem it necessary.

In the computer kiosks (OPAC) inside the library, you can login using your roll number and find out every detail about you concerning the library – how many books you've borrowed, etc.

Learn to use OPAC and find the book you want like a pro, within a minute or so.
I'm from SAP. Tell me about my library?
You can find everything about SAP Library here: https://www.annauniv.edu/Library/sap_about.html
Don't laugh at me, but what if they lock me up inside by mistake when they are closing the library?
Don't worry, you'll hear a warning bell, before the library is closed. That's when you wrap up things quickly and leave.
Anything else?
Yea. Don't forget that every department in the university has their own library, where you can refer various textbooks. Now you know where to go when your classes are cancelled, don't you?