26th – 28th January, 2018
With 60 years of experience in the realm of architectural education, pioneering time-tested pedagogy in the subject and producing some of the most renowned architects in the nation, School of Architecture and Planning, the university department for architecture, enters its 61st year since inception this year. The school celebrated its Diamond Jubilee with pomp and show over the Republic Day long weekend (26th to 28th of January, 2018) in its campus which recently inaugurated a new building to commemorate this juncture in time.
Months-long of work saw fruition, as a decked up campus with its new Diamond Jubilee Block, the staff, the students and the School of Architecture and Planning Alumni Association (SAPAA) played host to alumni, old and new, architects, experts and enthusiasts from the fraternity.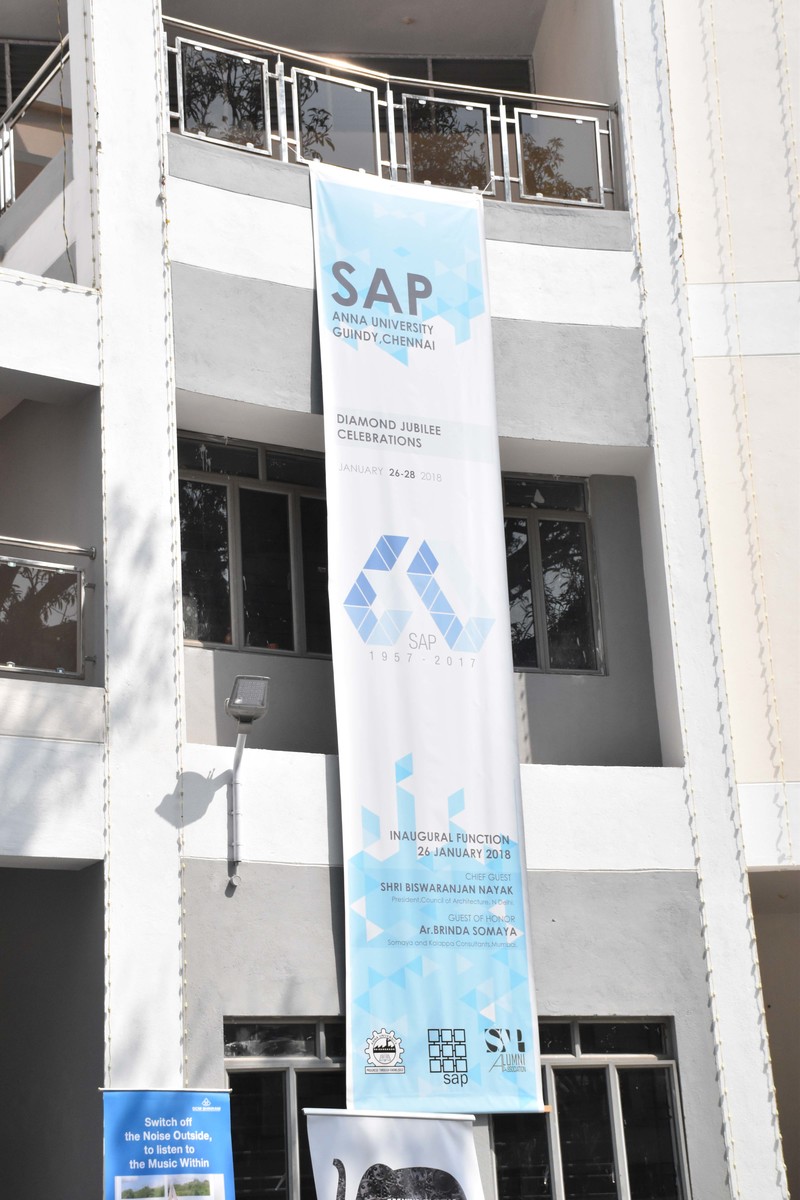 An inaugural event with dignitaries from the University's management, Education department of the state and the Council of Architecture, A Key-note address by eminent Ar. Brinda Somaya and an evening of culture followed by dinner was the event lineup on Day 1.
Day 2, starting with a parade of students from 1957 till 2017, followed by sessions of lecture and speeches by stalwarts in areas of architecture and planning, ended with 8 x 8, a line-up of 8-minute presentation of thoughts by alumni from different decades. In the mean-time, hands-on student workshops were held in many parts of the campus where students were given insights into various prospects of the profession.
The night on Day 2, came to a high-voltage end at the Madras Race Club at a dinner party hosted for alumni and their families as camaraderie took the spotlight.
Day 3 summed up the celebration with informal interaction, fun and games which ended with the valediction.
Memories from the event shall forever be etched in the new walls of the campus, while the old ones sing in the symphony, those of its 60-year-old glorious past.